About The Barony
The Barony of Bhakail is the fourth oldest barony in the East Kingdom, having been founded in September of A.S. VI (1971).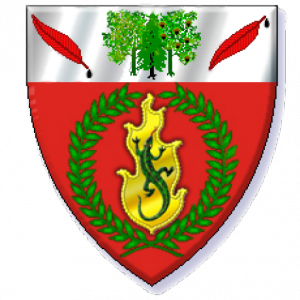 The Barony of Bhakail's "device" or "coat-of-arms" is registered as: "Gules, a Salamander sable dancing in flames, environed of a laurel wreath proper, on a chief argent a hurst of three trees, maple, pine and oak, proper, between a quill and a quill inverted, gules." That looks like the shield picture to the right. A device is what you fly on your banner and put on your shield. It says, "I am here."
The Baronial badge is: "A salamander in his flames sable." That looks like the rectangular picture. A badge is the image you put on your things to say, "This is my stuff." Because the background color is not specified for our badge, the salamander can be on any color, though we almost always put it on a red background.
There is one sub-branch in the Barony: the Bailiwick of Ivyeinrust, which includes in its borders Center City and West Philadelphia. The members of this branches are full and active members on the Baronial level but have the ability to host their own events and activities as well — which are open to everyone, whether they live in the Bailiwick or not.
Bhakail is situated in southeast Pennsylvania, in Philadelphia and its environs. Although you don't need to live in our Barony to participate with our group, you can always check what group covers the area where you live in by looking at the East Kingdom local branches site. You might be able to find a group that is closer to home and more convenient.
You can find some more information about the Barony of Bhakail on the East Kingdom Wiki Page.
Check out the SCA's official website at www.sca.org and the Northeast U.S. and Eastern Canada regional site at www.eastkingdom.org for even more resources!
Bhakail's arms graphic used by gracious permission of Master Jibral ar-Rashid al-Gyanji
---