Activities
---
Come join the Barony at Marple Library's medieval demo this weekend!
Saturday, 1-5pm at Veteran's Park in Broomall – https://goo.gl/maps/c7AP9YNSq4Ao2MV48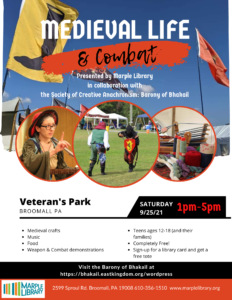 ---
The Baronial Ethereal Social happens online every Tuesday, except the 2nd Tuesday, beginning at 7pm. Here is a link (https://meet.google.com/gpf-gerd-ikj) to the Google Meet. You can also join by phone by dialing +1 605-620-1287‬ and using the PIN: ‪719 859 332‬#
---
Greetings from your local Baronial Chatelaine! The 3rd, and 4th A&S night of this month will also be used to inventory and sort through Baronial Gold Key. For those of you who aren't familiar with Gold Key, it's the Baronial store of loaner garb and gear for newcomers who have not yet had a chance to make or otherwise obtain their own garb.
If you'd like to help with this sorting exercise, please come and join me. March 20 and March 27th.  Check out the Calendar for details on A&S Night.
---
Monday night at 7 we will be getting together at my shop for a super special edition of Monday Night A&S!
In addition to normal activities, we will be re-sorting, cataloging, and perhaps, dare I say it, labeling some of the Baronial cooking gear before moving it back into storage.
Hard cider, adult and non-adult beverages provided. Please come out and lend a hand if you have a spare moment.
Many thanks in advance,
Martyn
---