July 2022 Business Meeting Minutes
Barony of Bhakail Meeting: July 12, 2022
Old Business
Letters of intent for Exchequer
All groups are required to have an Exchequer, and a new ruling on terms means that Mistress Philadelphia must step down no later than June 2023. If a new Exchequer steps forward she can step down sooner. The Barony will be actively advertising to solicit volunteers  in multiple venues until the position is filled.
Pennsic
The schedule of events include:
Opening Ceremony on Saturday August 6 at noon
East Kingdom court some time on Tuesday August 9.
The Bhakail Games Night will be Tuesday August 9.
See everyone at Pennsic!
River Wars
No news, other than that Rivers Wars is now scheduled to be a Royal Progress. Don Lorenzo and John Marshall will be elevated at the event.
Event Steward sought for Champions and Commons
Maryna Borowska and new member Gretchen Schroeder have volunteered. The Seneschal has asked Maryna to be the Event Steward and Gretchen to be her deputy.
Event Steward (and bid) sought for Yule
Chana (event steward) and Bidan (head cook) are planning to put in a bid for Yule. They will be looking into reserving the German Society for the event.
Upcoming Demos
September 3: Marple Library (2 volunteers so far)  and Pagan Pride (0 volunteers so far). This is not enough to support a demo, so if you are interested contact the Seneschal asap.
September 18: Highland Mansion (conflicts with Champions and Commons), so Barony will not be able to support. The Seneschal will pass the information on to Hartshorn Dale and Buckland Cross.
PAX Unplugged will be the first weekend in December.
New Business
Knight Marshall
The Seneschal thanked Lord Egill for his service as Knight Marshall, and announced that Egill has stepped down and the position of Knight Marshall is open. There is one candidate who has submitted a Letter of Intent so far, Lady Motte Nachtfalter (see attached). Additional letters of intent are welcomed before the next business meeting in September.
Shire Wars
The event organizers reached out to see if Bhakail wants to participate this year. The dates have not yet been announced on the East Kingdom calendar. The decision was made to participate. 
Officer Reports
Coronet's Report – Baron Muin maqq Minain
Hello the Peoples of the Barony, Our neighbors and Our Allies;
We of Bhakail now have the honor of sweltering in the Summer Sun, as befits Salamanders, and for this you may be Thankful! The Pennsic War, that big-tent carnival draw so many look forward to, is right around the proverbial corner, and We all now work, each in Our own various ways, in preparations. 
In this vein, We had planned, some two years passed, to participate in an exchange of Largess and Favors with the participating members of House Runnymede. With the plague that has gripped the land, this activity has been pushed off until THIS year at Pennsic!
As such, donations from talented, generous, and amazing artisans of the Barony have begun to roll in, and We art STUNNED at the absolute beauty to be found here. 
Bhakail will be trading Largess with the Barony Carolingia!  (Changed from previous, for reasons… dire, dark, sand encrusted bathing suit reasons…)
Any of Our fine craftspeople and artisans who wish to contribute to this Largess Basket, please contact the Baron. 
Post Pennsic, Our Commons event is undulating ever closer, a chunky mantaray in the surf; We will need Our People ready for the Heavy Weapons and Rapier Championships to choose Our newest Champions who would represent Bhakail in the coming year. 
DEMOS! We have many demos coming down the pike, and if you want to show off for the public, and possibly recruit new members from amongst the public, please let the Seneschal know of your wish to participate. 
(Remember, he's Our Seneschal, not Our Seneschan't!)
When you have time, send your fondest congratulations to Honorable Lord Mikael Melrakki for his amazing show of thrown weapons prowess! He has claimed through his expansive arts the Golden Axe!
And both he and Ellyn Grene made the 16 in the EK Thrown Weapons Championships!
In closing: Let us harken now to the Wise, and Winsome Poetry of Ancient Caledonii Peoples, with words by noted wordynessman, Eoghain the Long-wInded, sometimes known as the Least Grandson of the Revered Tjolk! Let these words whisk you away to a time e'er now long gone. Let its inspiration give your soul wings!
Bidh rathaidean a 'dol gu bràth,
Thar creag 's fo chraoibh,
Air uaimhean far nach d'rinn grian riamh,
Ri sruthaibh nach faigh a chuan ;
Thar sneachd air cur a' gheamhraidh,
Agus tro fhlùraichean blàth an Ògmhios,
Thar feur 's thar cloich,
Agus fo bheanntan anns a' ghealaich.
Bidh rathaidean a' dol a-riamh air adhart
Fo neòil 's fo rionnag,
Ach dh'fhalbh na casan a bha air seachran
Tionndaidh gu do dhachaigh mu dheireadh thall.
Sùilean a chunnaic teine agus claidheamh
Agus uamhas anns na tallachan cloiche
Seall mu dheireadh air cluaintean uaine
Agus craobhan is cnuic air a bheil iad eòlach o chionn fhada
Be well;
Muin, 
Baron of Bhakail
Seneschal's Report – Máistir Mael Eoin mac Echuidh 
Business meetings are important for proposing and making decisions around the official activities of the Barony.  Bhakail continues to exist and, more, be a thriving and entertaining place to participate in SCA activities because of our engaged members, officers and newcomers. Thank you, all, for being here (or reading about it in the minutes).
I was about to lay out some plans and start some balls rolling, but especially since this is our last meeting before Pennsic, I'll save it for once we're all back. Being newly in the office, I was asked to write something up for the newsletter, so there's some of it in there. Needless to say, we're going to have some good events through the end of the year and have lots of opportunities for folk to get involved and try new things.
Social Media Deputy – Magister Rowen Cloteworthy
A slow month here. We had four new people join the FB group, a couple new to the Barony and who've been introduced to Chana electronically. Information is still going back and forth from important Kingdom and Pennsic announcements to the FB page and email list. Things like requests for Consort's Favors, a post from the Consort's Bard, requests for Bhakail Pennsic tent info, and the like.
Salamander Pursuivant's Report – Lady Ragna Grímólfsdóttir
Anyone interested in producing scrolls for future Baronial Courts is welcome to contact me.
Heraldic Submissions:
From the Eastern Internal Letter of Intent (ILoI) – This letter includes all new names and devices that have been submitted to the Eastern College of Heralds in the last month. It takes about two months for items to reach the next stage, the Eastern Letter of Decision.
July 2022:
—  I did not see any submissions which I recognized as belonging to members of the Barony.
From the Eastern Letter of Intent (LoI) – This letter reports what items will be forwarded to Laurel to be decided on and what will be returned to the submitter for more work. It takes about six more months for submissions to reach the next stage, the Laurel Letter of Acceptances and Returns.
June 2022:
—  John Patrick's new name (John Patrick) has been forwarded on to Laurel.
From the Laurel Letter of Acceptances and Returns (LoAR) – This letter says what items have been accepted by SCA's College of Arms and what has been returned to the submitter unregistered.
May 2022:
— Muin maqq Minain's new badge ((Fieldless) On a hand sable an annulet Or) has been accepted by Laurel. 
If you are currently unsure of the status of your name or device, please contact me at herald@bhakail.eastkingdom.org and I will provide you with an update.
Knight Marshal – Lord Egill Illugasson
No report.
Rapier Marshal – Don Melchior Kriebel
Rapier practice continued to be held at the Mayfair Presbyterian Church. Attendance was light and there were no incidents
Archery Marshal – Lady Maryna Borowska
Archery practices have continued! Ellyn Grene became a marshal in June at SRWC and ran several practices last month while I was traveling. Contact me with any questions about archery or practice!
Thrown Weapons Marshal – The Honorable Lord Mikael melrakki 
Thrown Weapons/Archery Practices: Continuing on Sundays.  Come get a little practice in before you throw your Populace War Point at Pennsic.  Thrown Weapon practices will be canceled on 7/31, 8/7, and 8/14.  Archery practices may occur if there is interest, if so contact Maryna.
Minister of the List – The Honorable Lord Mikael melrakki
If you wish to be authorized before Pennsic, you will most likely not get your card in time as the deadline was June 26.
Exchequer – Mistress Philadelphia Brown
Working on second quarter report.
Anyone with expenses to be reimbursed or approved refunds who haven't yet received the check, please let me know.
Chamberlain – Honorable Lord Bryan Mac Dhunghaill an Boghadair
We have stuff.
Chronicler – Ellyn Grene and Brandr Stillingr
We are working on the next issue of the newsletter, keeping to our goal of publishing an issue every other month. We have asked for content to be submitted by July 15 so we can make sure we have the issue out before Pennsic.
Historian – Honorable Lord Bryan Mac Dhunghaill an Boghadair
Still working to gather Bhakail history! Not sure of the next event I will be going to.
Minister of Arts & Sciences – Lady Scolastica Capellaria
Members of the Barony continue to make art! They are brewing beers, weaving wires, stabbing fabric, and making garb for Pennsic.
Lady Angela Mori and Eleanora Tylemaker continue to host arts and science zoom meetings on Thursday evenings from 6-9pm.
There have been several calls for Largess. The barony is in need of Largess to be exchanged with the Barony of Carolingia. Please contact his excellency with questions. Largess items will need to be collected by the first week of Pennsic.
The kingdom is in need of medallions for certain orders including the following: Order of the Silver Tyger, Order of the Silver Mantle, Order of the Golden Mantle, Order of the Troubadour, Order of the Golden Lance and Order of the Terpsichore. If you have any questions, please let me know and I will point you in the right direction.
The queen is in need of favors! Information on how to make a favor can be found here: https://ri.eastkingdom.org/index.php/375-2/
Known World Heraldic and Scribal Symposium is July 22-24th. Hosted Virtually by the Principality of Vindheim and the Kingdom of Ansteorra. More information can be found at: https://sites.google.com/view/kwhss/home
The East Kingdom MOAS has published the fourth online arts display! View the entries here: https://moas.eastkingdom.org/fourth-east-kingdom-online-as-display/
The Pennsic A&S display will take place on Sunday, August 7 from 1-5 pm in the Great Hall (where it has been for the past few years). Please note that online registration ends August 5. https://www.pennsicwar.org/AnSDisplay?fbclid=IwAR3UreqMpuWtgvk5iReUR-wkk5dwJAkl1E12NYDrh44CO4FS62En3nhYnU0
If anyone has anything they would like to learn more about, please do not hesitate to contact me!
Chatelaine – Lady Chana Freidl the Maker
We continue to welcome newcomers at social each week and more people are reaching out through the website to get more information.  Hopefully once events start picking up, we'll be able to welcome newcomers there too!
Chancellor Minor's – Lady Honorable Lady Roseia Poseia
Youth Activities are available on request.  Please email  all requests to   181843@menbers.eastkingdom.org
Webminister – Máistir Mael Eoin mac Echuidh
The website redesign continues; we likely won't have anything wrapped before Pennsic, but hopefully before Champions and Commons we can have the new look available.
If anyone would like to help with design (I am not a web designer) and/or take over the role of Webminister, let me know.  I can keep doing it, but would like to shift things off my plate since I would like to focus on the role of Seneschal and other group, regional and Kingdom efforts stemming from what we're doing locally 🙂
Bailiwick of Ivyeinrust – Honorable Lady Livia Petralia
Mistress Philadelphia reported that the Bailiwick will likely participate in the Penn student activity fair in September.
Letter of Intent for Knight Marshal – Lady Motte Nachtfalter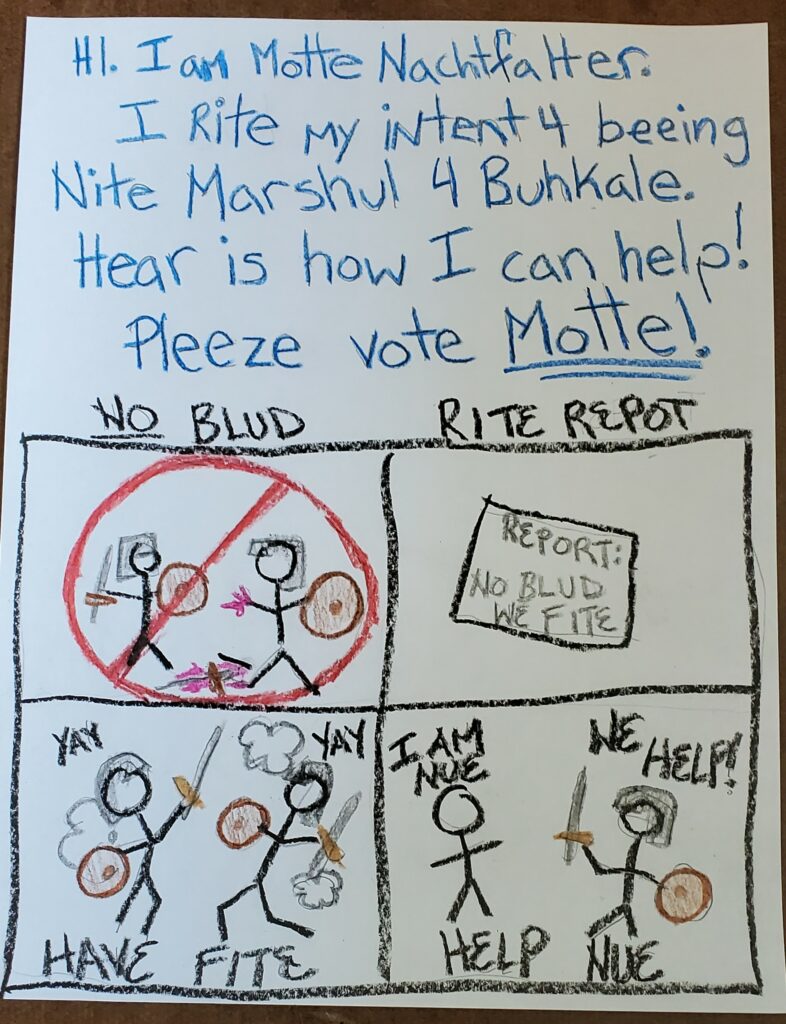 Minute notes recorded by Ellyn Grene
---