October 2023 Business Meeting Notes
Barony of Bhakail Meeting Notes: October 10, 2023
Events
PAX
Less than two months remain until our demo at PAX Unplugged. Chana submitted a request for reimbursement for more supplies, as we have run out of pieces for the game boards we give out, which has been approved by the financial committee. There has also been discussion of new posters and signage. If you are interested in helping at the demo booth, please let Chana know. The event is three days long, so a number of volunteers are needed. Update that a rapier demo is not allowed as metal weapons are not allowed at the event. 
Yule
Yule planning is going well. Insurance paperwork has been submitted. There was discussion of the possibility of a largess competition, but concern was raised that there is not a good location for it.
Tavern
No bid has been submitted.
Waking of the Salamander
No bid has been submitted.
Known World Heraldic and Scribal Symposium
Will be hosted by the Bailiwick of Ivyeinrust in June 2024.
Old Business
Baronial Inventory
No progress has been made since last month, but plan is to work on this while the weather is still good enough to work outside.
East Kingdom Curia
Last curia had some discussion of profit sharing of events that are royal progresses. Changes are being discussed from current practice.
New Business
Archery Marshal
The position is opening up, and letters of intent will be requested before the next monthly meeting. Mael Eoin thanked Maryna for her years of service and getting local practices established.
Additional Officer Reports
Knight Marshal – Aaron the Swift
We continue to meet at the Dickinson St. site for weekly practice. We've had a batch of newer fighters as well as visitors from far away lands the past month to help make practice a little more exciting. Picture included of our fierce faces from our larger practice last week.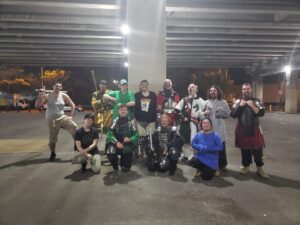 Thrown Weapons Marshal – The Honorable Lord Mikael melrakki 
The River Wars battle of Champions was won by our outgoing champion Taka.  The tournament to determine our new champion was held in the downpour and was won by Mikael melrakki who became the new Baronial TW Champion.
Practices continue on Sundays.
Minister of the List – The Honorable Lord Mikael melrakki
Nothing to report.
Chatelaine – Lady Chana Freidl the Maker
Not much new to report – we continue to attract and hold on to our newcomers, and have started seeing them at social more often. I have started purchasing new feast gear to make sets for those newcomers with the profits from the Plague Sale at Commons.
Minute notes recorded by Ellyn Grene 
---