December 2022 Business Meeting Minutes and Officer Reports
Barony of Bhakail Meeting: December 13, 2022
Old Business
PAX Unplugged 
Report from Lady Chana Freidl the Maker: PAX Unplugged was a HUGE success!  We had so much more interest than last year, from people across the country.  Having fighters really attracted a lot of attention, and enough SCAdians were there in the "audience" that we could all talk to the crowd about what they were watching.  I have big plans for next year, and I hope the leads we got this year join us!  I owe a GIGANTIC thank you to everyone who helped out, I couldn't have done it without you!
Shire Wars
Planning is beginning, and the organizers would like a representative from the Barony. Next month's meeting is on the last Tuesday of the month; please contact Mael Eoin if you are interested in volunteering.
Yule
Happened on Saturday, and was a success. 
Tavern
Planning is underway.
Waking of the Salamander
A bid has been submitted and is currently under review.
Yule 2023
Several people visited Lulu Temple to check it out as a site location. It is relatively expensive, so Bhakail will be looking to other nearby groups with which to partner. No bids have been submitted yet, so if you are interested in running Yule 2023 reach out to Mael Eoin. Need to think of strategies to keep people to stay and help with cleaning. Contact Philadelphia if you have ideas on alternative sites!
Officer Positions
Chatelaine: Term ends in December. Chana has indicated her willingness to continue. A vote was held and Chana was reelected.

Webminister: Finnolfr Hrafnson submitted his willingness to take on the position. A vote was held and Finn was elected. 

Emergency Seneschal: Taichleach Eoghanacht expressed willingness for the position. It is an appointed position and Mael Eoin appointed Taichleach to the position. 
Officer Reports
Coronet's Report – Baron Muin maqq Minain
No report.
Seneschal's Report – Máistir Mael Eoin mac Echuidh 
Greetings to the Barony!
We've had a very busy month, between Yule and PAX Unplugged, not to mention all of the regular weekly activities throughout the Barony.  As we hit the holidays and the end of the year, I hope things are easy, relaxing and energizing for us all.  The past three years have been very difficult – unprecedented in our lifetimes – and while we're not back to every routine, activity and other opportunities that might have been regular in years past, we're resuming some activities and forging ahead with other new ones.
As an officer and Peer, I am looking forward to supporting the events and activities that we are planning and would encourage anyone with interest in helping out to reach out to myself or any other organizer. Whether it's to help staff an event, learn how to run events or head up kitchens or look into a Baronial office as an assistant, either to help in the role or with an eye to taking it on fully at some point.
Specifically as Seneschal, my deputy Taichleach and I will start meeting regularly to review the Baronial customs ("bylaws", though we aren't to call them that) and propose an updated version that reflects how the Barony operates today, especially where our practices are at odds with what we've previously adopted. Likewise, we encourage all officers to consider their own existing policies (and/or create new ones if none exist).
On a personal note, I'd like to say I was grateful for the Yule we had and the massive demo effort of PAX Unplugged.  There's a lot of opportunity, there, but like many things, it would benefit from more volunteers, whether to staff the booth on occasion throughout the weekend, help make games or the like to give away or help with activities like dancing, fencing and the heavy combat that debuted this year. 
I wish things were such that we could've seen one another, if we didn't have the opportunity, and I appreciate the chance to see as many folks as I have through our practices and events this year.  Figuring out individual balances and accommodations we need to make to keep doing what we do is a challenge and I expect this next year will be no different there.
Stay warm and safe and however you celebrate this time of year, may it be filled with light and laughter.
Mael Eoin
Social Media Deputy – Magister Rowen Cloteworthy
This month saw seven new people join our FB page. Several who are members in other groups, one a SCAdian recently returned to live in the Barony, and a couple newcomers. As always, much information has been shared. This month there were communications on Pax, Yule, how to subscribe to the Baronial email list, information on the Kingdom's Discord server, information for beginning scribes, and information from our Seneschal on how he'll be restructuring the meetings and reporting requirements. As always, information is passed back and forth between the email list and social media. Until next time,
Salamander Pursuivant's Report – Lady Ragna Grímólfsdóttir
No report.
Knight Marshal – Lady Motte Nachtfalter
Fighter practice continues into the cold months. In a burst of ingenuity and generosity, our Tuesday practices are moving indoors to alternating sites.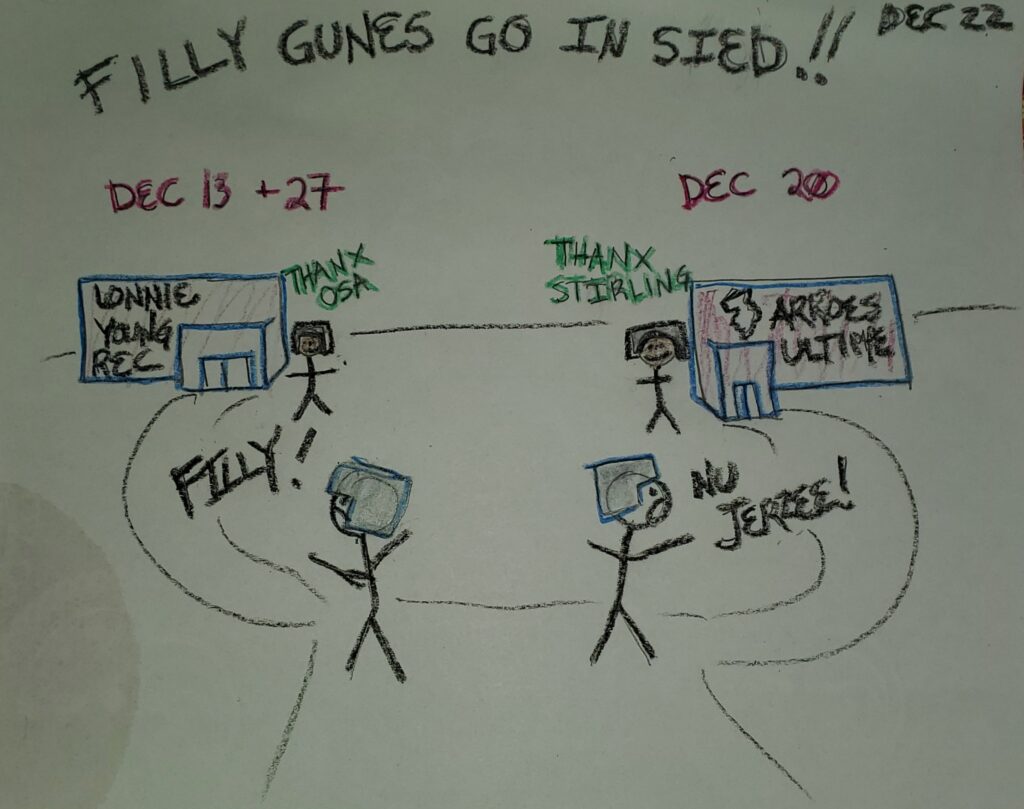 12/06 & 12/20
Practice will be held at:
Ultimate Archery
120 E Kings Hwy Suite 404,
Maple Shade, NJ 08052
These accommodations were made courtesy of Sterling del Rosa and are not to be misconstrued as an "unlawful occupation" of Bhakail forces outside the Barony. Attendees are asked to donate $5 toward site cost.
12/13 & 12/27
Practice will be held at:
Lonnie Young Recreation Center
1100 E Chelten Avenue
Philadelphia, PA 19138
These accommodations are made courtesy of Osa N'Kante and we are thrilled for his assistance and participation.
Site location will alternate weekly, with updates communicated to the fighting Facebook groups.
Preparations for war continue apace.
New business request: Could I get access to the Bhakail KM email address and it's backlog? Just in case new folks are reaching out and I'm not aware. Thanks!
Rapier Marshal – Don Melchior Kriebel
Bhakail rapier practice continues to be held at the Mayfair Presbyterian Church in NorthEast Philadelphia. Attendance is moderate and we have had a couple of new people checking out the practice this month. There were no incidents.
We have sent the email to the new building owners a second time and there has still been no response. We have been told they are slow to respond.
Archery Marshal – Lady Maryna Borowska
No report.
Thrown Weapons Marshal – The Honorable Lord Mikael melrakki 
Thrown weapons and archery practices are on hiatus, until Spring.  If a long period of unseasonably warm weather occurs, an impromptu practice may occur.
Minister of the List – The Honorable Lord Mikael melrakki
Nothing to report
Exchequer – Mistress Philadelphia Brown
As you probably know, the Baronial Council of the Exchequer (aka the Baronial Financial Committee) manages the Barony's assets (cash and non-cash), approves budgets for events and other expenditures, and is responsible for the Baronial Financial Policies.
The Baronial Council of the Exchequer is made up of five OR seven voting members:
Chancellor of the Exchequer,   

Seneschal,   

Coronet (one vote whether a single Coronet or two Coronets), and  

two at-large members OR four at-large members.
The Deputy Seneschal and the Deputy Chancellor of the Exchequer are kept informed of the Council of Exchequer discussions, but they do not have a vote on CoE issues.
The four current at-large members of the Council of the Exchequer have each served longer than their standard terms. and it is time to give them many, many thanks for all their years of service and let them enjoy a well-earned respite. Vivant, Mistress Judith the Confused, Mistress Gisela Szabo, Doña Damiana Almodóvar de Sevilla, and Lady Livia Petralia!
If you are interested in being an at-large member of Bhakail's Council of the Exchequer, you must be at least 18 years old and a paid SCA member. If you have any questions about the duties of the CoE or interest in becoming one of the new at-large members, please contact me (exchequer@bhakail.eastkingdom.org)  before the January Barony Meeting, if possible.
Thanks very much!
Chamberlain – Honorable Lord Bryan Mac Dhunghaill an Boghadair
No report.
Chronicler – Lady Ellyn Grene 
The latest issue of The Salamander was sent out November 29. Thank you to everyone who contributed to the issue. The next issue is scheduled for late January, so please contact me if you want to contribute anything.
Historian – Honorable Lord Bryan Mac Dhunghaill an Boghadair
Had a good Yule, talked to a lot of people and got some help with recreating the electronic history from Beck of Copeland. Scanning has begun. Chana has offered me pictures, I want to start putting together a slide show for the 50th calibration. So I am going to ask for pictures and stories again. His Excellency Buckland's Crossing said he would send me the documentation about the formation of Buckland's Cross. I don't know what event I will be going to in the near future.
Minister of Arts & Sciences – Lady Scolastica Capellaria
This past weekend at our Yule Celebration a New A&S champion was crowned: Katrein Topffer for her illuminated playing cards. Aiden Underhill won the brewing competition with his red currant liqueur and Caudle. Stay tuned for future announcements of next year's themes! Both competitions were well attended with many Bhakailis showing of their stuff including embroidery, pottery, leatherwork, lacemaking as well as many delicious beverages!
Don't forget about our Bardic and Gaming championships on January 28th in Philadelphia!
There are A&S opportunities at the following events:
January 7, 2023: Owlsherst Country 12th Night (York, PA) a day of games, music and dancing;

January 14, 2023: Fighters Schola and Tournament of the Fallen Stag, Shire of Caer Adamant, Wilmington Delaware, learn about flighting techniques and history;

January 28, 2023: Sign of the Wolf, Raven and Winged Cat, Barony of Bhakail (Philadelphia PA) Gaming Champion and Bardic Competition;

February 4, 2022: East Kingdom Bardic Championships, Shire of Hartshorn-Dale, Douglassville, PA, Bardic Competition and Largess Challenge.
If you are interested in teaching a class, there is a call for classes for Nova Schola in Hartshorn Dale on March 4, 2023 in Collegeville PA. Please contact Alison Wodehalle 148153@members.eastkingdom.org.
March 4, 2023 is also the date of the Kingdom A&S competition! This year in Laval Quebec! Registration opens December 1. This year's competition will again be a hybrid format of online displays and in person competition. For more information please read about it on the Kingdom MOAS website: https://moas.eastkingdom.org/displays-competitions/crowns-as-champions/
If you have any A&S interests that you would like to explore, need help researching something, or are looking for resources feel free to email me at MOAS@bhakail.eastkingdom.org. I also would love to see what you are working on! Please send me pictures of your projects!
Chatelaine – Lady Chana Freidl the Maker
I've had a few new people reach out online, and hopefully they will be joining us at events soon.  We look forward to a couple newcomer feast tables at Yule this weekend, and I know a couple newcomers have already signed up to join us at Tavern.
Webminister – Máistir Mael Eoin mac Echuidh
Will work with Finn to get him access to the website as he transitions into the position of westminster.
Bailiwick of Ivyeinrust – Honorable Lady Livia Petralia
Philly reported that Thélème has been moved to 2024.
Minute notes recorded by Ellyn Grene 
---