Barony of Bhakail Business Meeting: Jan 2023 Officer Reports
Following are the monthly officer reports submitted for the Bhakail monthly business meeting of Jan 10, 2023. 
Meeting agenda: https://bhakail.eastkingdom.org/wordpress/index.php/2023/01/04/january-business-meeting-agenda/
Coronet's Report – Baron Muin maqq Minain

Hellooooooooooo the Peoples of the Barony, Our neighbors and Our Allies;
We of Bhakail must rejoice, for Our Tavern event even now meanders ever closer, that Joyous Wreath of Holiday Cheers that sets boldly upon Our Barony's Hearth; We will need Our People ready for the Bardic and Gaming Championships to choose Our newest Champions who would represent Bhakail in this coming year.
The Baronry is also currently in need of more scroll holders, if anyone either has spares lying about, or is willing to construct them, We would appreciate these efforts greatly.
As We approach the beginning of what COULD be Our Final Year as Baron of this amazing Barony of Bhakail, I would like to take this time to remind the Barony that the SCA draws each of Us to its welcoming arms with a variety of activities and interests. With upcoming Events, such as Waking of the Salamander, if you are thinking of aiding in the running of the event, yet do not know what to do nor where to start, think of those things you enjoy doing in the Society, and start with those things. Or, ask… you could always ask. Yeah. Ask.
This year is fast coming to a close, and We should all be thankful for the turning of the Seasons that will bring back the Sun, and leave this past year where it belongs, in memories, and lessons well learned.
In closing: Let us think now upon the Poetry of those Ancient Ghlaswegeon Peoples, with words by their most honored and noteworthy of encroonenator, Wee Jock MacJock of the revered line of the MacJocks, sometimes known as the Jock, to the Caledorii Mnathan nan Buadhan So-rèiteachaidh Let these words whisk you away to a time e'er now long gone. Let its inspiration give your soul wings!
Am bu chòir dearmad a dhèanamh air an neach-eòlais
Agus nach deach a thoirt gu inntinn?
Am bu chòir dearmad a dhèanamh air an neach-eòlais
Agus làithean na h-aingidheachd ?
Airson auld lang syne, a ghràidh
Airson auld lang syne
Is òlaidh sinn cupan caoimhneis fòs
Air son auld lang syne
Agus gu cinnteach ceannaichidh tu do chupa
Agus gu cinnteach ceannaichidh mi mo chuid!
Gabhaidh sinn cupan caoimhneis fathast
Air son auld lang syne
Tha sinn le chèile air pleadhadh anns an t-sruth
O ghrian maidne gu oidhche
Na cuantan eadar sinn a Thighearna agus at
Bho làithean auld lang syne
Do sheann luchd-eòlais na dìochuimhnich
Agus cha deach a thoirt gu inntinn a-riamh
Bu chòir dearmad a dhèanamh air seann neach-eòlais
Air son auld lang syne ?
Do sheann luchd-eòlais na dìochuimhnich
Agus cha deach a thoirt gu inntinn a-riamh
Bu chòir dearmad a dhèanamh air seann neach-eòlais
Ann an làithibh auldlang syne ?
Airson auld lang syne, a ghràidh
Airson auld lang syne
Is òlaidh sinn cupan caoimhneis fòs
Air son auld lang syne
Be well,
And Peace be upon you in these Slowly Enlightening Times;
Muin,
Baron of Bhakail
Seneschal's Report – Máistir Mael Eoin mac Echuidh

Happy New Year!
I've already missed my own mark of being more prepared on this month's change in business meeting planning, communication and execution…but the holidays were maybe the worst time of year (…well, maybe aside from Pennsic) to launch something new.  My bad.  Thankfully, we're not being graded on it and we'll give it a good chance before deciding whether to stick with it or change it.
We've had a lot of good feedback on the Yule survey, and I think between that and the desire to pin down a place on a site's calendar before they fill up, we should plan on using the German Society again for Yule '23.  I had a lot of hope for Lulu Temple, especially with expanded space for activities, but the significantly increased cost coupled with a loss of ambiance really worked against it.  More to come on future Yule plans, but the long and short of it is that without legwork being done to find new sites, there's a lot to recommend staying where we are.  If anyone is interested in helping with finding new sites, let me know.  Myself and the other officers aren't able to do it at this time and we need more volunteers.  Likewise, if anyone wants to bid to run Yule this year (or any year going forward!), please reach out.
Social Media Deputy – Magister Rowen Cloteworthy

Eleven new folks have joined the Barony's FB group this month. We had a combination of new folks, a couple people from other groups, and a couple returning SCAdians recently moved into the Barony. All the newcomers were given introductions to Baron Muin and Lady Chana. Information-wise, we've posted contact info about the Baronial email list and the Kingdom's Discord server. Photos from Yule were shared and information about the coming Gaming and Bardic Champs at Tavern was distributed, along with other bits and bobs. Until next time…
Salamander Pursuivant's Report – Lady Ragna Grímólfsdóttir

No report.
Knight Marshal – Lady Motte Nachtfalter

Practices are expected to continue indoors at the locations listed from December's report (Ultimate Archery, 120 E Kings Hwy Suite 404, Maple Shade NJ 08052, OR Lonnie Young Recreation Center, 1100 E Chelten Avenue, Philadelphia PA 19138. Site location will alternate weekly, with updates communicated to the fighting Facebook groups.)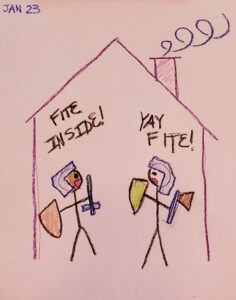 Practices continue to be held, with Sir Bari or Sir Elglin acting as marshals or other suitable individuals as needed.
Rapier Marshal – Don Melchior Kriebel

We finally heard back from our new landlords….and he promptly kicked us out of the church basement. In theory it is so the needed repairs can be started but while he says he is open to us using the site in the future the impression I get is that he wants a lot more money for the site once repairs are done. 
We have collected our loaner gear and will store it until we have a new place for it. 
We are working under the assumption that future use of the space will be too costly for the benefits and are looking to get a new space. Several folks have been contacted to see what we can get.
Archery Marshal – Lady Maryna Borowska

No report.
Thrown Weapons Marshal – The Honorable Lord Mikael melrakki

Practices are still on hiatus.
Minister of the List – The Honorable Lord Mikael melrakki

I will be teaching a class on running various tournament styles at Caer Adamant's Fighter Schola.
Exchequer – Mistress Philadelphia Brown

No report.
Chamberlain – Honorable Lord Bryan Mac Dhunghaill an Boghadair

No report.
Chronicler – Lady Ellyn Grene

I'm currently working on the next issue of The Salamander, which will be published in late January. If you have content to contribute, please have it to me by no later than January 17.
Historian – Honorable Lord Bryan Mac Dhunghaill an Boghadair

No report.
Minister of Arts & Sciences – Lady Scolastica Capellaria

Starting in the new year I would like to start hosting regular Zoom A&S lectures on different topics once a month. If there is a topic you would like to learn more about, or something you would like to teach, please email me at MOAS@bhakail.eastkingdom.org
Don't forget about our Bardic and Gaming championships on January 28th in Philadelphia! Please check the event announcement for information on the Gaming Championship format! Bardic Competition Theme to be announced!
There are A&S opportunities at the following local events:
      January 7, 2023: Owlsherst Country 12th Night (York, PA) a day of games, music and dancing;

      January 14, 2023: Fighters Schola and Tournament of the Fallen Stag, Shire of Caer Adamant, Wilmington Delaware, learn about flighting techniques and history;

      January 28, 2023: Sign of the Wolf, Raven and Winged Cat, Barony of Bhakail (Philadelphia PA) Gaming Champion and Bardic Competition;

      February 4, 2023: East Kingdom Bardic Championships, Shire of Hartshorn-Dale, Douglassville, PA, Bardic Competition and Largess Challenge.

      March 4, 2023: Nova Schola in Shire of Hartshorn-Dale (Collegeville, PA) a day of classes and learning geared toward newcomers.

      March 25, 2023: Mudthaw in Settmour Swam (Hackettstown NJ)

      April 16, 2023: Service Schola in the Barony of Carillion (South River, NJ) with classes on various volunteer positions in society.
If you are interested in teaching a class, there is a call for classes for Nova Schola in Hartshorn Dale on March 4, 2023 in Collegeville PA. Please contact Alison Wodehalle 148153@members.eastkingdom.org.
March 4, 2023 is also the date of the Kingdom A&S competition! This year in Laval Quebec! Registration opens December 1. This year's competition will again be a hybrid format of online displays and in person competition. For more information please read about it on the Kingdom MOAS website: https://moas.eastkingdom.org/displays-competitions/crowns-as-champions/
If you have any A&S interests that you would like to explore, need help researching something, or are looking for resources feel free to email me at MOAS@bhakail.eastkingdom.org. I also would love to see what you are working on! Please send me pictures of your projects!
Chatelaine – Lady Chana Freidl the Maker

We continue to have newcomers reach out, hopefully they will start joining us at events soon.
Yule – nothing from the financial committee yet about any profit or loss from the event, but we did receive our security deposit back, so that's a plus.
Pennsic – Pre-reg will likely open in January.  Keep an eye out for information from your camp masters about pre-regging for Pennsic 50!
Webminister – Finnolfr Hrafnson

No report.
Bailiwick of Ivyeinrust – Mistress Philadelphia Brown reporting
Thélème at Penn has been rescheduled for Saturday, 9Mar24.
Emery is planning some recruitment activities this spring on Penn's campus.
Martyn is working on the 4th quarter year-end exchequer report.
---