January 2023 issue of The Salamander
Posted on January 25, 2023 By Ellyn Grene
Here is the new issue of the Bhakail newsletter, The Salamander. This issue includes event details for Bhakail Tavern – At the Sign of the Wolf, Raven, and Winged Cat (January 28 at the German Society of Pennsylvania), information from Scolastica Caparelli on the Arts & Sciences opportunities at upcoming events, and another fun and educational puzzle from Rowen Cloteworthy.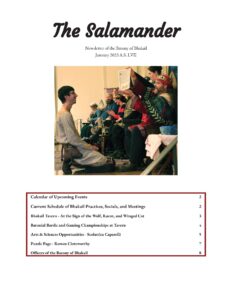 Thank you to everyone who contributed to this issue. Please contact me at
chronicler@bhakail.eastkingdom.org 
if you would like to contribute an article, artwork, or other content for an upcoming issue.
Yours in service,
Ellyn Grene (Bhakail Chronicler)
Related
---
This site uses Akismet to reduce spam. Learn how your comment data is processed.